Reservations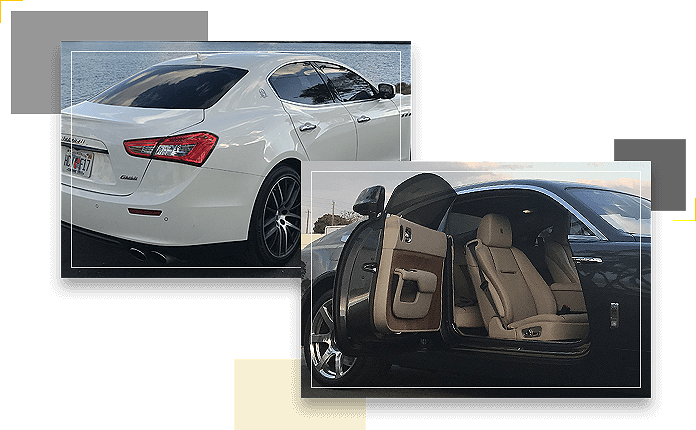 Would you like to experience some of the most beautiful luxury cars in the world? Have you always dreamed of driving a Porsche or Maserati? Do you have a special event coming up that requires you to step up your game?
If so, a Posh Exotics reservation is the perfect way to do so.
Why We Do What We Do
At Posh Exotics, we provide luxury vehicle rentals, properties, and yachts in the Miami area. Most of our items are booked in advance, and filling out our special reservation form is the best way to secure your experience as early as possible.
Our Exclusive Benefits
Regardless of whether you're coming to Miami for vacation, business, or pleasure, making your reservation with Posh Exotics is the best way to ensure your time in Miami is spent in luxury.
To make your reservation, we will need the following information:
Your current city, state, and zip code
Your street address
Your insurance information, including:
your driver license number
date of birth
state of license issue
insurance provider name
policy number
Your mobile phone number
Your email
Reservation details, including:
intended start and end dates
the name of the vehicle or amenity you'd like to reserve
whether you will require a chauffeur or additional amenities
your preference regarding pick-up and delivery services
any additional information you wish to include with your reservation
Questions or Comments
Have questions or comments about the reservation process? Contact us to speak with a representative. We take pride in offering outstanding service to all of our clients, and we're happy to help you work through any concerns, logistics, or pick-up and drop-off requirements you may have during your trip to Miami.
Your Satisfaction is our Priority
Today, you don't have to be a celebrity to live their lifestyle. With Posh Exotics reservations, you can enjoy the luxury, beauty, and excitement that comes with an upscale vehicle, property, or yacht. Simply look through our selection to find your perfect fit and then book through our intuitive online reservation platform. It's that simple, and we're here to help you every step of the way.
Enjoy your time in Miami!